Hot water/steam GeneLink
Three kinds of energy used optimally
Hot water/steam GeneLink (GW-EXJ series)
1,055〜3,516kW (300〜1,000USRT)[Gas-fired]
● Hot water/Steam Gene-Link is a Gene-Link with waste steam regenerator added.
This Gene-Link can utilize the wasted steam which has a higher temperature than hot water so the waste heat is converted efficiently into cooling, raising the energy efficiency as a result.
Another feature is that, large amount of the waste heat can be recovered by one single chiller unit so engine generators with a larger power-generating capacity can be introduced.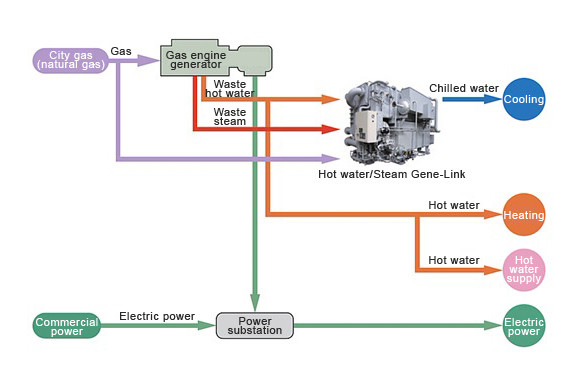 Amounts of waste steam and waste hot water recovered
The amount of gas consumed is cut by giving priority to the use of waste hot water and waste steam.
Furthermore, at load below 68%, the chiller can be operated by only wasted heat.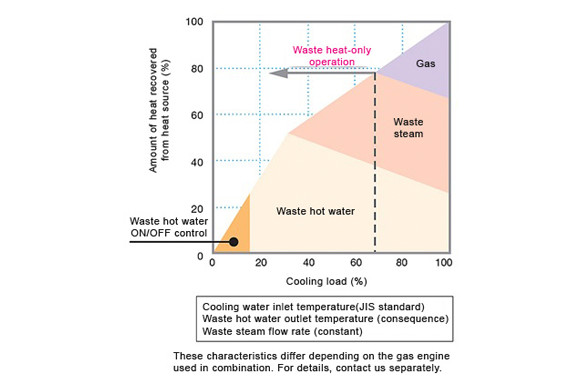 ■ Chilled water temperature 15-7℃, Cooling water temperature 32-37℃(45% energy saving model)
Steam Pressure 0.78 MPa(G), Waste hot water 88-83℃
Model:HAU-BWGN/CWGN
300EXAJ
400EXAJ
500EXAJ
630EXAJ
Cooling capacity
kW
1,055
1,407
1,758
2,110
USRT
300
400
500
630
Heating capacity
kW
844
1,000
1,291
1,613
Fuel reduction rate
(During rated cooling operations)
%
Approx. 60
Fuel reduction rate
(During rated heating operations)
%
Approx. 40
Model:HAU-BWGN/CWGN
700EXAJ
800EXAJ
900EXAJ
1000EXAJ
Cooling capacity
kW
2,461
2,813
3,165
3,516
USRT
700
800
900
1,000
Heating capacity
kW
1,963
2,264
2,264
2,695
Fuel reduction rate
(During rated cooling operations)
%
Approx. 60
Fuel reduction rate
(During rated heating operations)
%
Approx. 40