Employees volunteer to help keep Watarase Reservoir for the birds
May 16, 2018 – Visitors to the expansive Watarase Reservoir, two hours north of Tokyo, can expect to find extensive birdlife and fish – those are, after all, what helped earn it registration under the Ramsar Convention on Wetlands of International Importance in 2012.
What visitors probably wouldn't expect to find are teams of Johnson Controls-Hitachi Air Conditioning and Hitachi Reftechno employees picking up litter. But that was the spectacle on April 21, when more than 100 employees, family and friends from the nearby Tochigi factory participated in a reservoir cleanup operation as part of their regular "Blue Sky Involve" program.
Under clear spring skies, participants were provided with gloves and trash bags before setting to work picking up garbage from their allotted section on the northern side of the 3,300 ha reservoir, which straddles the borders of Tochigi, Gunma, Ibaraki and Saitama prefectures.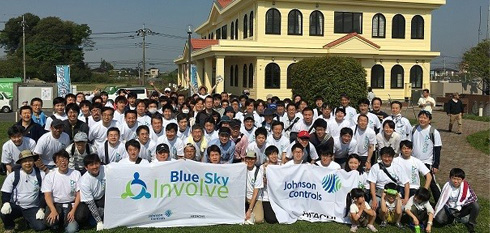 Pleasingly, participants reported that there was less trash than expected, although they still managed to find dozens of empty cans, plastic bottles and even an old televisions. By the end of the day, a significant volume had been collected.
The clean up operation has been held annually since 2001 and is supported by the Ministry of Land, Infrastructure and Transport. This year more than 5,000 people participated in total, with the group from Johnson Controls-Hitachi Air Conditioning and Hitachi Reftechno being the largest.
Blue Sky Involve is a part of the sustainability activities of Johnson Controls, the majority shareholder in Johnson Controls-Hitachi Air Conditioning. It encourages company employees to volunteer with local non-profit organizations in support of the arts, education, environment.
After a morning of litter-collecting, participants had a relaxing picnic with boxed lunches, giving them the opportunity to get to know each other and enjoy the natural environment they had helped preserve.