"Frost Wash" inventors lauded by JEMA for contributions to the electronic manufacturing industry
April 23, 2018 – "Frost Wash," the groundbreaking technology that makes it possible to clean the inside of residential air conditioners, has been popular with consumers in Japan since it was released in late 2017. Now its inventors have received industry accolades, too.
In a ceremony held at Tokyo's Keidanren Kaikan on April 12, the Japan Electrical Manufacturer's Association (JEMA) bestowed "Excellence Awards" on Hiroyuki Hashimoto and Fumitaka Nishioka, two Johnson Controls-Hitachi Air Conditioning engineers based in the company's Tochigi factory who led development of the innovative technology.
"Frost Wash" addresses an issue that had long stumped the air conditioning industry – how to effectively and efficiently clean the inside of residential air conditioning units. While many consumers will be familiar with the process of cleaning the filters inside air conditioners, cleaning inside the machine itself has usually required professional assistance.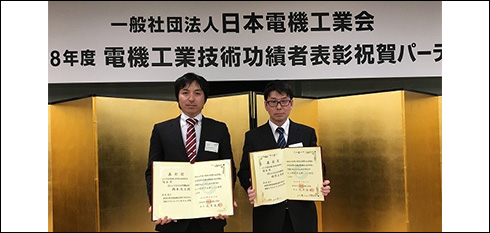 "Frost Wash" technology helps out by automating the process entirely. Launched in Japan in October 2017 in the "Stainless Clean Shirokuma-kun" Premium X Series of air conditioners, it involves the automatic freezing and then rapid thawing of the air conditioner's heat exchanger. Dust and grease, which if left to build up can cause of unpleasant odors, are effortlessly drained away as the unit thaws.
Hashimoto and Nishioka were delighted to receive their awards.
"I am truly delighted that we have received recognition from outside the company for the results that have been achieved through the skills, ideas, and cooperation of everyone involved," Hashimoto said. "I hope to continue developing industry-leading technology that can contribute to the growth of the industry."
Nishioka highlighted the team-nature of the development work. "Thanks to the efforts and cooperation of everybody involved, we were able to receive this award for the development of the 'Frost Wash' system used in the 'Stainless Clean Shirokuma-kun' air conditioners," he said. "I attended the award ceremony as a representative of the team, and I feel truly honored. I will try and do everything I can in the future to solve new issues in air conditioning technology."
The annual JEMA awards, which are now in their 67th year, are presented to regular members of JEMA who contributed to the progress and development of the electronic manufacturing industry. They are intended to contribute to the development of the industry by encouraging improvements in technology and motivating members to achieve higher efficiency.